MY Non-Touch Detection System
MY Non-Touch Detection System for maximum safety
In public transport, passenger safety is paramount. There is a special focus on entry areas, where the day-to-day risk of accidents is especially high. That's why manufacturers and operators demand maximum effectiveness of safety systems under all conditions.
Mayser has developed its own safety technology for public transport vehicles – the MY Non-Touch Detection System. Even before contact, the system detects people or animals in the danger zone and automatically stops or reverses door movement. An integrated pressure-sensitive safety edge ensures functional safety (PL d Cat.3) in line with strict protection standards. This prevents hazardous situations such as impacts and pinching and even severe accidents such as dragging during travel.
Mayser's innovative technologies meet the high requirements of public transport vehicles in every respect. Operators can rely on top safety without unnecessary disruptions such as delays, even at peak times. The MY Non-Touch Detection System offers even more benefits:
It is not affected by environmental factors such as rain and snow.
It is completely maintenance-free and perfectly adaptable to heterogeneous fleets.
Easy to configure, long service life, absolutely reliable
Low life-cycle costs
Retrofitting for more safety in existing fleets is usually possible.
Industries
Advantages
Maintenance-free and capable of retrofitting

Easy integration into door profiles

Insensitive to environmental influences such as light, rain and snow

Increased passenger comfort

Self-monitoring: automatic function test during each opening process

Time- and space-saving installation due to a control unit integrated in the sensor profile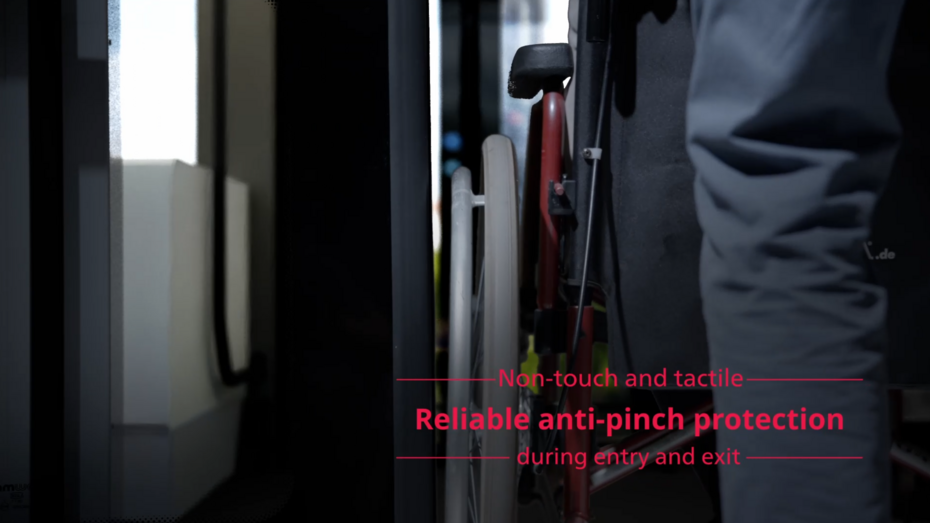 Passenger safety is our passion. With the MY Non-Touch Detection System, we offer comfort and safety in equal measure.
Your benefits
Additional convenience from non-touch detection in the direct danger zone at main closing edges of straight or curved doors
Impact protection for increased safety
Solutions tailored to your requirements
Complies with:
Train: EN 45545-2 HL3, EN 50155, EN 50121-3-2, EN 14752
Bus: UN ECE R10, UN ECE R118
Would you like to know more?
Simply contact us!