Mayser sensors make travel and commuting safe
At the 25th Busworld in Brussels, the oldest and most well-known trade fair for the bus and coach industry from 18 to 23 October 2019, Mayser will present ultramodern safety technology for local public transport. International industry specialists can look forward to intelligent technologies that are designed for easy integration and reliable protection of passengers.
At Busworld the focus will be on Mayser products that make bus and coach travel much safer for passengers. Especially when entering and exiting there is a risk that bags or items of clothing could get caught in closing doors, causing people to be dragged along. To prevent this, Mayser has developed sensitive sensors that detect objects and prevent automatic doors from closing; this can be achieved with pressure-sensitive (tactile) or non-touch (capacitive) sensors.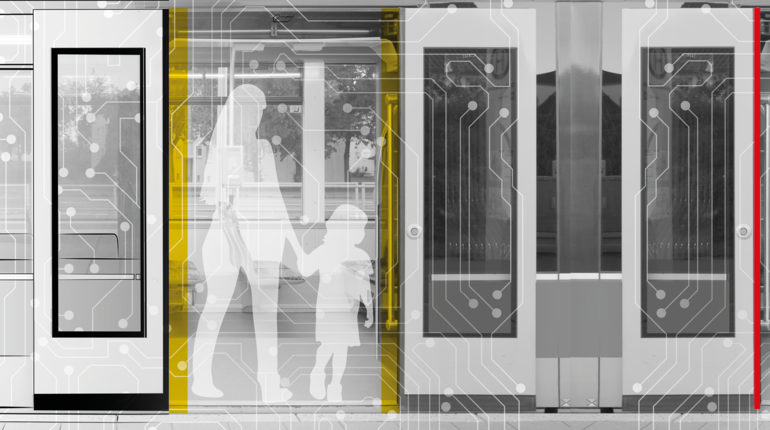 Visitors to the Mayser booth can experience on-hand how safety steps perform as surface sensors in the entry and exit area, or how pressure-sensitive and capacitive safety edges detect even the smallest objects and reliably stop the closing motion of a door. The trade fair portfolio will also include smart technologies such as the capacitive switch for pedestrians lights, which is designed for reliable operation in adverse weather conditions also when wearing gloves.
As a result of worldwide increasing requirements for fire protection, RoadFR® is a product that will make a stop at the Mayser booth a must for many visitors. The fire-proof cable is ideal for use in areas with stringent requirements for flame-retardant materials, because it prevents disruption of the electronic systems in motor vehicles in case of fire. Visitors to the Mayser booth can also look forward to a Ventura sliding swing door as an aid for demonstrating how Mayser safety systems work.
Visit Busworld in Brussels and experience how Mayser safety technology can make bus travel safe. Get your free visitor ticket here.
More Events
Would you like to know more?
Simply contact us!